I'd like to keep this post brief because, ironically, I'm really not in the mood to obsessively gloss over how much I hate each and every one of these films. You may think a film writer would have more fun ripping a movie apart than praising it, but no: the whole reason I founded this site was because I wanted to write passionately about films I love. And since the first decade of the twenty-first century was perhaps not as strong as previous decades, I don't particularly want to be too reminded of the downsides of the past ten years.
But it's gotta be done! I'm still preparing and doing research for my upcoming Top 50 Films of the Decade, which I should have done and posted in the next two or three weeks. In the meantime, let me dish out my demons here, will ya?
And just to let everybody know in advance: I'm going to resist the temptation to put Paul Haggis'
Crash
(2005) on the list. Though I'm certainly no fan of the film, I have to admit that I don't think it's
terrible
- and I did admire some of the performances (and even, dare I say, the exaggerated subplots.). Therefore, I'll be cutting Mr. Haggis some slack... for now.
1.
Pay it Forward
(2000)
Mimi Leder's absolutely sickening afterschool special about a Las Vegas kid (Haley Joel Osment) who is inspired by his teacher (Kevin Spacey) to go out into the city, do good deeds for people and inspire them to do some good deeds of their own. Or, as I like to call it, "walking aroud the city acting like Kirk Cameron". Peter Travers of Rolling Stone named this the #1 AND #2 worst film of the year. Why? Because this movie is laughable for all the wrong reasons: the filmmakers feel as though the only way they can make the hero's mother intresting is if they make her this out-of-control alcoholic (how many more times is alcoholism going to be abusively used as a plot device in modern cinema), and of course they've just GOT to give Helen Hunt a massive push-up bra this side of Erin Brokovich. Regrettably, Spacey, Hunt and Osment all give it their best in performances that could have suited something more... I don't know, artistic? The ending of the film is the most horrendous insult of all to our intelligence, further proof that Mimi Leder is quite a clumsy director when it comes to hysterics and hasn't learned anything from the mess she made out of 1998's
Deep Impact
.
2.
Pearl Harbor
(2001)
Michael Bay and Jerry Bruckheimer can make jackasses out of themselves with fictional action movie fiascos as much as they want to- but it's when they try to bastardize American history (you're reading the words of an American history buff here) and trade the importance of our troops for the greed of the box office when I start calling the cops.
3.
Tideland
(2006)
Terry Gilliam has never been more wrong. With this film, he declared that he wanted to tell a story solely from the point of view of a child. I applaud the effort, but Gilliam's experiment doesn't nearly reach the exquisite levels of films like
Empire of the Sun
or
A.I.
, which is all the more ironic considering that Gilliam has made several unkind remarks about Steven Spielberg in the past (and yet fails in his attempt to acquire some of that Spielbergian magic). Though the child performance by Jodelle Ferland is gutsy with the material, Gilliam doesn't take advantage of this asset; he feels it necessary to put her in the company of a pair of disgusting adult retards for most of the film, and this gets increasingly obnoxious. Jokes about fecal matter and rotting corpses don't help, either. At the end of the day, it is a surprisingly crass film- heavy on cynicism, lacking in imagination and creativity.
4.
John Q.
(2002)
Nick Cassavetes' ultra-liberal hogwash about a blue-collar father (Denzel Washington) who takes an emergency room hostage after the hospital refuses to give his son a heart transplant. Speaking as a left-winger who wants the health care of this country to be reformed, I despise it when a movie crosses the line the way this one does; it resorts to those condescending lessons we were all taught in our Sophmore years at high school (Wouldn't you do the same in that situation, brotha?), and it fails even more as a hostage film: Sidney Lumet's incomparable
Dog Day Afternoon
is ripped off about a billion times, never effectively. It's unfortunate to see that Nick Cassavetes is just as banal a filmmaker as many of his 1990's counterparts, and that he doesn't seem to be familiar with any of the innovative filmmaking techniques invented by his own father. What would John Cassavetes make of studio tarpit fare like this film?
5.
Chicago
(2002)
My choice for the decade's worst Best Picture winner. I've always thought the story itself (vigilante justice story about a girl who murders a dishonest lover and lies her way out of jail) was both boring and right-wing extremist to begin with, but in the hands of a bland director like Rob Marshall, it can't even be at least visually interesting. Marshall is one of those filmmakers who exists on the planet just so that he can win awards: he's more fascinated by set design and bright lights than he is by filmmaking. Good performances by Rene Zellweger, Catherine Zeta-Jones, Richard Gere and John C. Reilly don't cut it; not even a screenplay by Bill Condon can match the far more enlightening screenplay he wrote a few years prior for
Gods and Monsters
. Maybe the late Bob Fosse could have made something exotic out of this story, but Marshall certainly does not.
6.
Troy
(2004)
It's fair to say that Wolfgang Petersen's best films were the films he made in native Germany; his Hollywood output has always proved rather sporadic, and this film marks perhaps his lowest effort. Brad Pitt is miscast as Achilles, Diane Kruger is miscast as Helen of Troy, Orlando Bloom is miscast as the guy who woos her, and Brendan Gleeson and Brian Cox are ridiculously over the top as the film's villains- each of the parts are badly written, too. There's a strong lead performance by Eric Bana as the fearsome Hector, as well as strong supporting performances by Peter O'Toole and Sean Bean, but that's about it; it's hard to care about either the Trojans or the Greeks, because the screenplay simply doesn't do justice to the glory of Homer. Go rent the NBC production of
The Odyssey
with Armand Assante instead. Better yet, check out the director's cut of Ridley Scott's
Kingdom of Heaven
(2005) for a more majestic battle epic from this decade.
7.
Lady in the Water
(2006)
Well, I thought
The Village
sucked- but it was after this one when I finally threw my hands up in the air and gave up on M. Night Shyamalan for good.
8.
Mr. Brooks
(2007)
This movie wants so desperately to be Brian De Palma's
Raising Cain
(1992), but, then again, don't they all? It tries to supply Kevin Coster's serial killer with a devilish alter ego (William Hurt), but even this is a poor mimicing of John Lithgow's conversations with his split personalities in the earlier film. A subplot involving a female cop (Demi Moore) and her fights with a pair of inner-city thugs feels wildly uneven; and Dane Cook, as the guy who stalks Costner's serial killer, proves once again that he can't act. And of course, director Bruce A. Evans is no De Palma.
9.
Superman Returns
(2006)
Bryan Singer's unexciting attempt to rejuvanate the Superman franchise is being praised in recent years by Quentin Tarantino (who claims to have written a 20-page essay on it), but frankly, I can't understand why. Brandon Routh has none of the charm or wit of Christopher Reeve, and Kevin Spacey's Lex Luthor is overly serious and determined; we have fond memories of Gene Hackman's more colorful Luthor in the superior Richard Donner films. And not one action sequence in the film ranks among the greats of recent years. I much prefer Singer's
X2
(2003).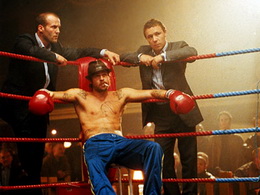 10.
Snatch
(2001)
No doubt this is probably the most controversial addition to this list, but I see this film as little more than another rip-off of
Pulp Fiction
and
Fight Club
- I still don't know what to think of Guy Ritchie as a filmmaker. This film does nothing for me; the only thing I remember admiring in the least is Dennis Farina's performance as a crazed mobster ("I hate f-ing dogs!") and very little else. The rest of the cast is annoying as hell... and I'm sorry, but Brad Pitt is miscast. Jason Statham can't act, either.
So, there's my two cents.