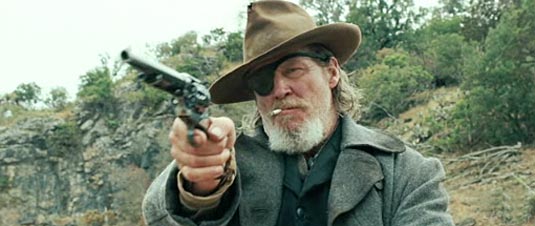 When was the last time you dreaded a Coen Bros. release? I never thought this would happen to me. Given that I'm a major Coen Bros. fan and that I think they've been on a roll in the last five years (
No Country for Old Men
was my pick for the best of 2007, and
A Serious Man
was my pick for the best of 2009), I thought they had by this point reached a kind of invincibility. After my compadre Ryan Kelly was
rubbed the wrong way
by
A Serious Man
last year, however, I took notice of a strange phenomenon: not every Coen Bros. movie is for every taste. I'm not implying that they've always made perfect films; I've never been crazy about
Raising Arizona, The Hudsucker Proxy
or
Burn After Reading
. But after I read the news last year that the Coens were going to be remaking
True Grit
, my heart sank. And not because of any dislike I may have for Hollywood remakes, but because I did not think this was a story worth remaking.
I have a bad history with
True Grit
—mainly the dubious politics of the story. I first saw Henry Hathaway's 1969 film about two or three years ago and was disgusted by it: it was, to me, a pro-capital punishment diatribe, a celebration of vigilante authoritarian tactics and a glorification of the "shoot first, ask questions later" gun-toting hero.
So, yeah… you can see where I'm going with this. I've gone on politically correct tirades on this site before (see my
conflicted views
of John Huston's hanging judge Western
The Life and Times of Judge Roy Bean
or my furious
smackdown
of Tarantino's
Death Proof
), so please read no further if you wish not to wade into those waters with me. But before I go out to see the Coens'
True Grit
(and, thanks to a good friend of mine, I've acquired a couple of free tickets to an advance screening), I just gotta get this off my chest. This has to be said.
Last month, when I realized that the Coens' remake was just on the horizon, I decided to do the best thing a person in my odd situation could do in order to prepare: read the Charles Portis novel. So many
True Grit
fans were telling me that it was far and away superior to the Hathaway movie that I wondered if maybe Portis had different insights into the politics of the story. Perhaps not all of them made it into the 1969 film, which was made at a time when audiences didn't really care about such matters—they just wanted to see the Duke shoot up bad guys.
Jennifer Boulden of Awards Daily, however,
cautioned
me that I might not find what I was looking for in Portis' novel. "I'm not sure you're going to find his 'take' on capital punishment vastly different from either film," she told me on her website. "I'm not completely sure there
is
a take on it. I see the material more as character studies of people who have a definite sense of justice, without necessarily passing judgment on whether that's right or wrong." Taking Boulden's words into account, I mustered up the courage, purchased Portis' novel and began reading.
Here's what I know for sure: Portis' novel is a very good piece of literature. It's not a masterpiece like Cormac McCarthy's
Blood Meridian, or The Evening Redness in the West
, but I can at the very least tell you that it's a page-turner. If I came away from the Hathaway film despising the characters of Rooster Cogburn, Mattie Ross and LaBoeuf, then I have come away from the Portis novel loving them. The Hathaway film DOES
NOT
do the book justice. That doesn't mean I don't still hold reservations over the story, but we're not there yet.
First of all, it's difficult to guess from the book if Portis really does take a pro-capital punishment stance. I remain curious about a scene that occurs in the first 20 pages in which Mattie attends a public hanging and bursts into tears at the sight of it. Quoting from Portis' text:
He [one of the men being hanged] was in tears and I am not ashamed to own that I was, too… Yarnell put a hand over my face but I pushed it aside. I would see it all… the Indian jerked his legs and arms up and down in spasms. That was the bad part and many in the crowd turned in revulsion and left in some haste, and we were among them… I have since learned that Judge Isaac Parker watched all of his hangings from an upper window in the Courthouse. I suppose he did this from a sense of duty. There is no knowing what is in a man's heart. Perhaps you can imagine how painful it was for us to go directly from that appalling scene to the undertaker's where my father lay dead. Nevertheless it had to be done
(Portis, 20).
Why do you think Portis puts this scene in the book? I have never been able to figure out why. It's in the Hathaway movie as well, but I've never gotten the impression that the scene is supposed to give Mattie second thoughts about whether or not she still wants to see the murderer of her father hanged. In fact, when she does end up going to the undertaker to see her father's body, she regains her taste for blood. Portis never gives her any self-doubt or anything. And sometime afterwards, Mattie attends another hanging, and this time she is not so sympathetic towards the men being hanged:
They were mostly white men but there were also some Indians and half-breeds and Negroes. It was awful to see but you must remember that these chained beasts were murderers and robbers and train wreckers and bigamists and counterfeiters, some of the most wicked men in the world. They had ridden the "hoot-owl trail" and tasted the fruits of evil and now justice had caught up with them to demand payment. You must pay for everything in this world one way and another. There is nothing free except the Grace of God. You cannot earn that or deserve it
(Portis, 37).
Again, I don't understand what Portis is wanting us to take away from this scene. It's apparent that he intentionally makes Mattie naïve throughout the story and often we hear her naiveté in her narrative voice, but I'm not sure if that's the point. Undoubtedly there are many fans of the book who agree 100% with Mattie's politics. Is that what's expected of us, too?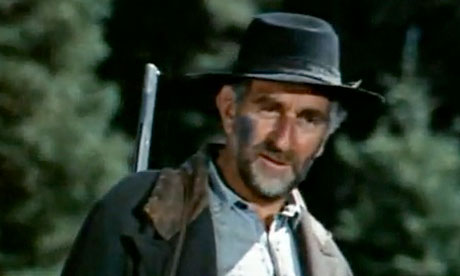 Here's my problem with
True Grit
: the man who murdered Mattie's father, a coward going by the name of Tom Chaney, is never really seen by Portis as anything more than a coward. A one-dimensional, pathetic loser. Not an interesting villain by any means. He's a man without humor and very nearly a character without humanity. How can we be expected to get as worked up as Mattie is over such a boring man? For those of you who are unfamiliar with the plot of
True Grit
, it's pretty basic: Mattie hires U.S. Marshall Rooster Cogburn and a Texas Ranger named LaBoeuf to help her find Tom Chaney, bring him back to Fort Smith and then ensure that he is hanged. Mattie has so many ridiculous arguments with Rooster and LaBouef about
where
Chaney is hanged and what he gets hanged for (she wants Chaney hanged for the murder of her father, and not over the assassination of a state senator or his "Texas bird dog"), that they never stop to think about whether they
should
have Chaney hanged. The possibility of ensuring that he goes to prison doesn't ever cross their minds. And the story doesn't just seem to advocate for capital punishment—it also seems to advocate for torture. When Rooster is trying to persuade Mattie to allow LaBoeuf to take Chaney to Texas instead of to Fort Smith, Rooster ensures her of Chaney, "You can spit on him and make him eat sand out of the road. You can put a ball in his foot and I will hold him while you do it (Portis, 93)."
Look, Chaney is obviously a stupid, murderous coward who belongs in prison. That much I agree with. But the possibility of a long prison sentence for Chaney is not mentioned once in
True Grit
. This is why I get the feeling that Portis wrote the novel out of a longing for the Western justice of the old days, when criminals were executed and then the deed was done. True, back in the 1800's there were very few opponents to capital punishment. It was generally accepted as a common consequence for high crimes and misdemeanors. But can you think of another Western that is great because it preaches a message of death penalty "retribution"? I certainly can't.
Most of the great American Western movies have a way of seeing right through the reactionary violence of the genre. In Howard Hawks'
Red River
(1947), John Wayne played Thomas Dunson, an overly obsessed cattle rancher who vows to have any deserters from his output hanged from the highest tree—until the Montgomery Clift character assumes command and kicks Dunson out. In Fred Zinnemann's
High Noon
(1952), Will Kane (Gary Cooper) is bitter about the dangerous Frank Miller not being hanged by the feds but then pauses and considers, "sometimes prison
changes
a man..." In John Ford's
The Searchers
(1956), Wayne played Ethan Edwards, who at first seems like a likable protagonist until we come to realize that he's an extremist and a racist. All of Sam Peckinpah's most masterful Western films (
Ride the High Country, The Wild Bunch, The Ballad of Cable Hogue, Pat Garrett & Billy the Kid, Bring Me the Head of Alfredo Garcia
) see violence not as justified but as a miserable last hurrah for weakened gunslingers on their way out. Of course, on the other side we have the Sergio Leone Westerns, which aren't as emotionally complex. But at least the villains in Leone's films were interesting and colorful. Tom Chaney in
True Grit
is neither of these.
I find some solace for these troubles of mine in the scenes towards the end, when Mattie finally encounters Chaney at first hand. After she rages at him for murdering her father, Chaney says to Mattie:
I regret that shooting… Mr. Ross was decent to me but he ought not to have meddled in my business. I was drinking and I was mad through and through. Nothing has gone right for me
(Portis, 172).
Portis makes that last line a repeated catch-phrase for Chaney. I've counted at least two other times when Chaney mutters this again: first, when he's mocked by his fellow bandits; secondly, when he's arrested by LeBoeuf. "Everything is against me!" he constantly complains. Am I wrong in interpreting that Portis is attempting to humanize Chaney in these passages? That Portis wants us to empathize with him, if not sympathize with him? If this is the case, then I don't understand why Portis doesn't do this more often throughout the book. In that chilling scene towards the end, when Mattie falls into a snake pit and Chaney is up above, looking down at her, Mattie, having just shot Chaney in the head, cries out to him,
Throw me a rope, Tom! You cannot be mean enough to leave me!
(Portis, 202)
Of course, Chaney, as heartless as he is, doesn't help Mattie. He just mocks her and waits for her to get eaten alive. Eventually, I guess, this is what spells out his own doom, and Portis' universe contorts itself so that the villain gets his just desserts and falls into the pit with Mattie, while the snakes burrow into his face. A fittingly gruesome death for a gruesome man, in other words.
Some of you will no doubt tell me: wait a minute, so Chaney gets shot instead of hanged? So that means he ultimately
doesn't
get hanged at the end! Right? He gets shot by Rooster in self-defense! So what's the big DEAL here, Zanzie?
The big deal, people, is that regardless of the fact that Chaney gets killed in a clear-cut case of self-defense, it doesn't change the fact that he only exists in the story for one purpose: to die. And we're supposed to feel good about how a character we hardly get to know—a character with problems that are never explained—gets his comeuppance at the end. This is another form of capital punishment. Sorry, but I'm unmoved.
If Tom Chaney were as eccentric of a villain as, say, Lucky Ned Pepper, it would be a different story. I actually like the scene towards the end where Rooster and Pepper ride their horses at each other and have a final Mexican standoff of sorts. Pepper says to Cogburn, "Well, Rooster, I am shot to pieces!" (Portis, 194) and then gets blown away by LaBoeuf. I find Ned Pepper's death to be very poetic. Maybe that's because Ned Pepper is a villain full of life: he's got a wicked sense of humor, he's fearsome, and he and Rooster have an angry past with each other (Rooster shot up Pepper's lip). I can enjoy Ned Pepper's death scene because it's a colossal demise for a colossal villain. I can't enjoy the death of a pathetic person like Tom Chaney, whose own death is just as pathetic.
Watching the Henry Hathaway movie again, there are only a handful of things I like about it. Hathaway's direction of all of the action sequences is spectacular, for example. The Lucien Ballard cinematography is mesmerizing. Of the cast members, Robert Duvall has fun as Ned Pepper, and Strother Martin, Dennis Hopper and John Fielder (commonly known by kids as the voice of Piglet) do well in supporting roles. But everything else about Hathaway's movie is bland, bland, bland. The Elmer Bernstein score is overbearing and doesn't suit a film with a plot this serious. John Wayne, Glen Campbell and Kim Darby are all just as obnoxious as I remember them when I first saw the film: they are each embarrassingly miscast in roles that deserve better. It bothers me that Wayne won an Oscar for this film, of all films, when he would have deserved it more for other films prior to that (like
Red River
or
The Searchers
, or maybe even
Rio Bravo
). The screenplay by Marguerite Roberts, while mostly faithful to the Portis text, omits Mattie's narration—which, if you ask me, is crucial to the story's point of view. And Roberts' script also robs the Tom Chaney character of ALL of his humanity, taking away any elements of life that Portis may have breathed into him in the book. Studying Jeff Corey's performance as Chaney, I can only sense him thinking to himself,
Who in God's name is this man I am playing?
So, we'll see what the Coens come up with. Personally I think the casting in the remake is inspired. Jeff Bridges as Rooster! Matt Damon as LaBoeuf! Hailee Steinfeld as Mattie! Barry Pepper as Ned Pepper (they even share the same last name)! And I also think it was a masterstroke to cast Josh Brolin as Chaney. This way, audiences won't feel compelled to automatically recoil from Chaney and cheer at his death scene—not when such a likable actor is playing him. There's a part in the
theatrical trailer
where Brolin grabs a knife, stares angrily at Hailee Steinfeld and hisses, "I do not regret shooting your father." I don't remember this line anywhere in the book, but if I'm correct, there's going to be a scene in which Chaney and Mattie have a moral debate about the murder of Mattie's father and the punishment that Chaney deserves for it. Such a scene will hopefully humanize Chaney a bit more.
Another reason why I think the Coens will humanize Tom Chaney: they have dealt with villains like him in their other films. Look at Tom Reagan in
Miller's Crossing
, Charlie Meadows in
Barton Fink
, Jerry Lundergaard in
Fargo
or Anton Chigurgh in
No Country for Old Men
. All of them are cowards and murderers who get involved in matters of killing because of their poor judgement. The Coens have an attraction to antiheroes with this kind of poor judgment. Their
True Grit
will obviously also be about Rooster, Mattie and LaBoeuf, but I also anticipate that they'll examine Tom Chaney more carefully than Portis or Hathaway ever did. They may recognize that this is a man with serious problems, and that the audience may be interested in knowing about those problems.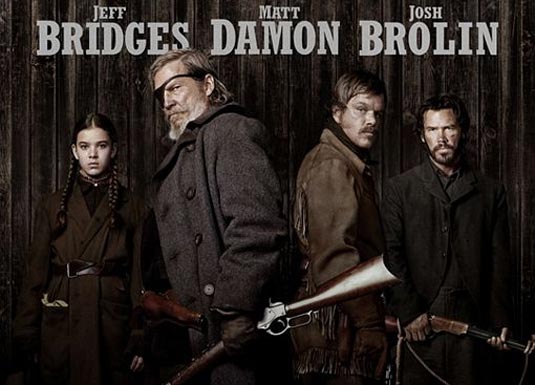 Otherwise, I'll be at a loss for judgment.
True Grit
is an entertaining book, and Charles Portis writes with amusing prose... but what, exactly, are we supposed to
gain
from this story? Satisfaction that a dead man is avenged? That may be an acceptable lesson if you're a person who believes in eye-for-an-eye justice. But what if you don't?