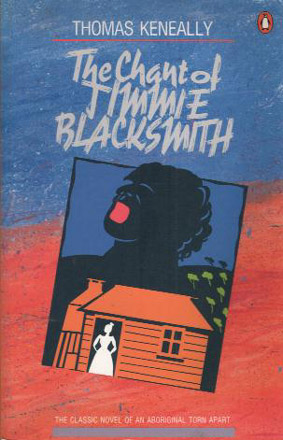 The Chant of Jimmie Blacksmith
was written by Thomas Keneally in 1972. In this post I will quote from some of the book's individual chapters.
Chapter 1
In June of 1900 Jimmie Blacksmith's maternal uncle Tabidgi--Jackie Smolders to the white world--was disturbed to get news that Jimmie had married a white woman in the Methodist church at Wallah.

Chapter 5
Jimmie Blacksmith knew that he was being exquisitely cruel and that it was bad for his soul, that it might put him closer to madness most ruinous to his ambitions.
"Why 'im Harry give 'im woman to 'im white boy?"
Harry did not understand the point.
"Whiteman 'im don't lend no one 'im wife. 'E keep her all the time, even when 'e borrow gin all the time. She lie down with 'im other man, whiteman kill 'im wife. Maybe kill 'im man too, often as not. So why yer bloody give Sally for 'im white boy ride?
Certainly Harry tried to understand the point. His eyes glazed withe the import of it.
But Jimmie Blacksmith went and rolled himself up for sleep and slept obdurately, hearing unwillingly sounds of Harry's misuse, which Harry had merited. By not understanding.
Chapter 15
People laughed in their state of grace, the old crimes done, all convict chains a rusted fable in the brazen Arcady and under the roar of buskers in temperate April 1901.

And the other viciousness -- the rape of primitives? -- it was done and past report.

Scratch a Labor politician and even some of the others and you find twentieth-century daring. Votes for women. Pensions for the old and for the widow. Industrial courts benevolent to trade unionists. Had anyone in London, Paris, Vienna, Washington even hinted at such eventualities? You could bet your bottom dollar they hadn't.

...

It was happy Easter and open another bottle as the wild men pitched over the necks of crazy bulls from Wyalong.

You couldn't hang blacks on such an occasion.
...
In May Mr Hyberry went to Dubbo and hanged old Jackie. It was a quick and easy hanging.

The next day Jackie saw an eye he was not used to, peering full, blinking rarely, at the Judas window. A new warder? Jimmie wondered. A politician? Jimmie, on the second last day of life, had the prisoner's thirst for novelty and eye for small changes.

Mr Hyberry was away three days in all, and his fine boys could cope with the customers.