"Farewell, the pleasures of the flesh! What I
don't
understand is how we're going to stay alive this winter."
The above is a quote by Ralph Richardson from
Doctor Zhivago
(1965), and I like the quote so much, it's been my signature on IMDB for almost two years now. I guess the reason why I like the quote so much is because it embodies cold temperatures. Not many movie quotes embody cold temperatures, do they? No. Certainly not very many quotes from a movie as cool as this one. Or from the hand of somebody as cool as cool as David Lean.
Fact is, it's one of my favorite movies despite the fact that it's not Lean's masterpiece (that's either
Lawrence of Arabia
or
The Bridge on the River Kwai
... maybe even
Great Expectations
, if you want to be adventurous).
I'd say
Zhivago
is more like Lean's "great flawed film". It kind of goes to what Truffaut once said: every great director has a masterpiece, and yet it's the great flawed films that arouse the emotions more often. And
Zhivago
may not be a perfect movie, but geez: it's got OMAR SHARIF! A guy with a mustache is the hero, for once. And he goes to bed with Julie Christie
AND
Geraldine Chaplin (who, of course, are both fantastic as well).
And damn it:
SNOW AND ICE
! How many *legendary* movies have snow in them? Well, there's
Lost Horizon, The Shining, The Empire Strikes Back, Fargo, The Thing
... uhh, anything else? No.
So, if you're anything like me, you've gone out, bought and obsessed over the new
Zhivago
45th Anniversary DVD. If not? Then... sheesh! You suck.
Nah, I kid. But I digress. This post isn't supposed to be all about
Zhivago
...
A year ago today, I started this site. Icebox Movies began life as "Icebox Reels", and the above picture (from
Zhivago
--what else?) served as the initial banner for the main page. Eventually I ditched the title "Icebox Reels" because I wanted to distance it from James Berardinelli's ReelViews--a site that I think is just abysmal.
I created a site because Ryan Kelly and Rob Humanick had already started sites of their own. I basically met them on IMDB (we would generally discuss with some cinephiles on the
2001: A Space Odyssey
boards each and every month), and over there we'd get into all kinds of discussions on Kubrick, the Oscars and various other subjects... until Ryan and Rob drifted off. Ryan told me he had started his own Blogger site. I was happy to drop by his and Rob's sites occasionally, but thought, "I'll be damned if I'm gonna create one of these myself".
You see, I thought I was done with online film critiquing. I have been posting movie reviews on the Web ever since I was 13 years old: ever since that one day in Spring 2004, when I was sitting in the middle of my seventh grade Geography class and posted a brief little review of
Minority Report
on Yahoo Movies. On Yahoo, I had created for myself the username, "icebox482000". I had wanted to go by "icebox" (remember, I love cold temperatures), because, you know, names like "ice cube" and "ice T" and "ice cold" were already made famous by... rappers. Even "Ice Pack" was used for a
Batman Beyond
cartoon villain or something. But nobody had taken "icebox" yet...
Or had they? Occasionally people have asked me, "Icebox... as in
Little Giants
?" And I would have no idea what the hell they were talking about. You see, I *have* seen
Little Giants
before--but I saw it such an awfully long time ago when I was under the age of ten, so I don't really have any memories of it... I vaguely recall a scene where Rick Moranis is berating Ed O'Neil for "hurting the feelings" of his children, and of course the scene where the Karate Kid from
Seinfeld
is growling at his reflection in the mirror. But I definitely did NOT remember that Shawna Waldron's character was nicknamed "Ice Box", even though I did just barely remember the character herself (off-topic, but apparently Shawna Waldron has grown up to be, like, super-hot or something? Check
this
out).
So, no. I did not get my username or my website from
Little Giants
.
Let me just get something out of my system, though: Yahoo Movies is a horrid place for movie-reviewing. I quickly figured out the hard way that you can't edit your reviews over there; once you've finished a movie review, that's it. It's there forever. You can't delete it or anything. I remember having to write THREE reviews of Peter Weir's
Witness
(1985) because I was always embarrassed with my first review, and kept wanting to revise it. My
first
review, as you can tell, is written by a timid 13-year old just trying to write a capsule review in the best way he can think of. My
second
review was an attempt to try to write a longer review, with a more objective opinion. My
third
review was written when I tried to form a more concrete opinion on the film.
Do you realize what I had to do in order to write three different reviews of the same movie? I had to create different accounts with fake email addresses!
Not only are they terrible reviews, but Yahoo at some point changed the dates on which I wrote them. So now my 2004 reviews claim that I wrote them in 2006. And my old review of
The Color Purple
, which was
written when I was fifteen years old
(with the same irritating, fanboyish, Ebert-wannabe prose I used back then) makes it look as though I wrote that review in 2008! What's that all about? Oh, and here's my review of Stone's
JFK
,
written at the same time
. You can probably tell because back then, I was a rabid conspiracy theorist who looked at the film with blind faith. It's still a great film, of course, but I don't look at it with such gullibility anymore.
I think
around the same time
I wrote a review of
Return of the Jedi
, and for weird reasons, that review had since been snagged on Blogger;
another person has published it
on their site! Well, I didn't know I was such a celebrity, especially over such a terribly-written review, but thanks for recognizing me... whoever you are.
Done rambling about this subject. My point is, hey! Yahoo Movies! Fuck you.
Around summer 2005, when I was getting fed up with Yahoo and wanted to go to venture out to other environments and actually have conversations about movies with other people, I started up a Xanga site. Again, my username was "icebox482000". I enjoyed this site for a good while, and through it I got to meet new people who were impressed with my (growing) film knowledge. It was through these people that I got into the works of Bergman, Kurosawa and every other foreign filmmaker that young teenagers always first start out with.
But by late 2006, I was getting tired of the site, which basically consisted of me writing three to four capsules reviews of the movies I was watching each week. If you're anything like me, you've realized that capsule reviews get boring to write after some time--and I wasn't using the site to my advantage as a way to write longer reviews. I had also started a Myspace site, but that got me nowhere interesting. Both sites have since been shut down. Had I not constantly kept getting emails from Xanga and Myspace asking, "Are you keeping your site?", I probably would have kept them alive for all of you to see...
Four years later, I was at Blogger. Last July, I had officially graduated high school but was stuck at a grueling summer job at Six Flags, and was totally not looking forward to a whole year of community college. All of my close friends were going over to universities. Literally none of them stayed behind, like me. But I observed how Internet friends like Ryan and Rob were creating sites on Blogger. I decided to follow their example.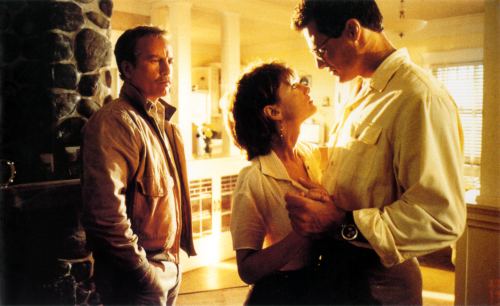 Not all of my essays published on this site have endured. My first publication here was a review of Spielberg's
Always
(1989). A splendid film, but my review was amateurish. I've deleted it.
My second publication was a review of Kathryn Bigelow's
K-19: The Widowmaker
(2002), which I wrote during the excited wait for
The Hurt Locker
. But after seeing
The Hurt Locker
, my opinions on Bigelow's filmmaking became somewhat blurred and confused, and rather contradicted the stuff I had written in my
K-19
review. I was also no longer proud of my
K-19
review because I had written it hastily after midnight, and was not as focused as I should have been. Again, this review has been deleted.
I'd have to say that the first great thing that happened to me on Blogger was getting the chance to participate in Tony Dayoub's Brian De Palma blogathon back in September. Man, did my piece on
Redacted
cause an uproar! Even though I said some things during the
discussion
on that particular film that I regret saying (and I later wrote a
revised piece
on the film here, on this site, that corrected some of those invalid points I made in my original essay), I'm still happy to have participated in the blogathon. It more or less got my site noticed, and allowed me to discover the amazing sites of everyone else.
Before the year was out, I got to meet one of my filmmaking idols. I have to hand it to David Lynch: without him, I would have still been a clueless 18-year old who didn't really understand the difference between celluloid and digital photography. But although we are indeed headed for a digital revolution, Lynch reminded me that "cinema will never die". You can view my entire conversation with him
here
(and you can read my blog piece detailing my trip up to Iowa to meet Lynch
here
).
In case you were wondering, some of the other stuff on this site has been deleted. Such as my
Saving Private Ryan
essay from back in December. The film, in my opinion, is a masterwork, and I tried to do as much justice to it as possible. But the main focus of the essay was never achieved: I wanted to disprove Jonathan Rosenbaum's claim that SPR was "inspired by every war movie Spielberg has ever seen", including Samuel Fuller's war movies--I ultimately did not do good on proving Rosenbaum wrong because I had never even
seen
Fuller's war movies. Since then, I have, and I intend to re-review SPR again. But if you've noticed, there are no longer any pieces about Spielberg films on this site (unless you count my Top 50 of the decade).
And remember my ill-fated Presidential series? That's not here anymore, either. Basically, I wanted to write something about each and every President from the 20th century. I was able to get past the first three presidents, and then got bored and aborted the whole thing. Even writing about the great Woodrow Wilson (screw you, he may have been a racist, but... LEAGUE OF NATIONS, BITCHES!) could not sustain my interest in the rest of the project.
Also, remember, everybody: the John Huston blogathon officially begins here on August 5th! It's only less than a month away, so be sure to at least start
THINKING
about what to write!
Oh, and one more thing...
"This mask belongs to the
PEOPLE
!"
Huh. Well... that was surely the lamest ending ever to a one-year anniversary post. Guess it'll have to suffice.